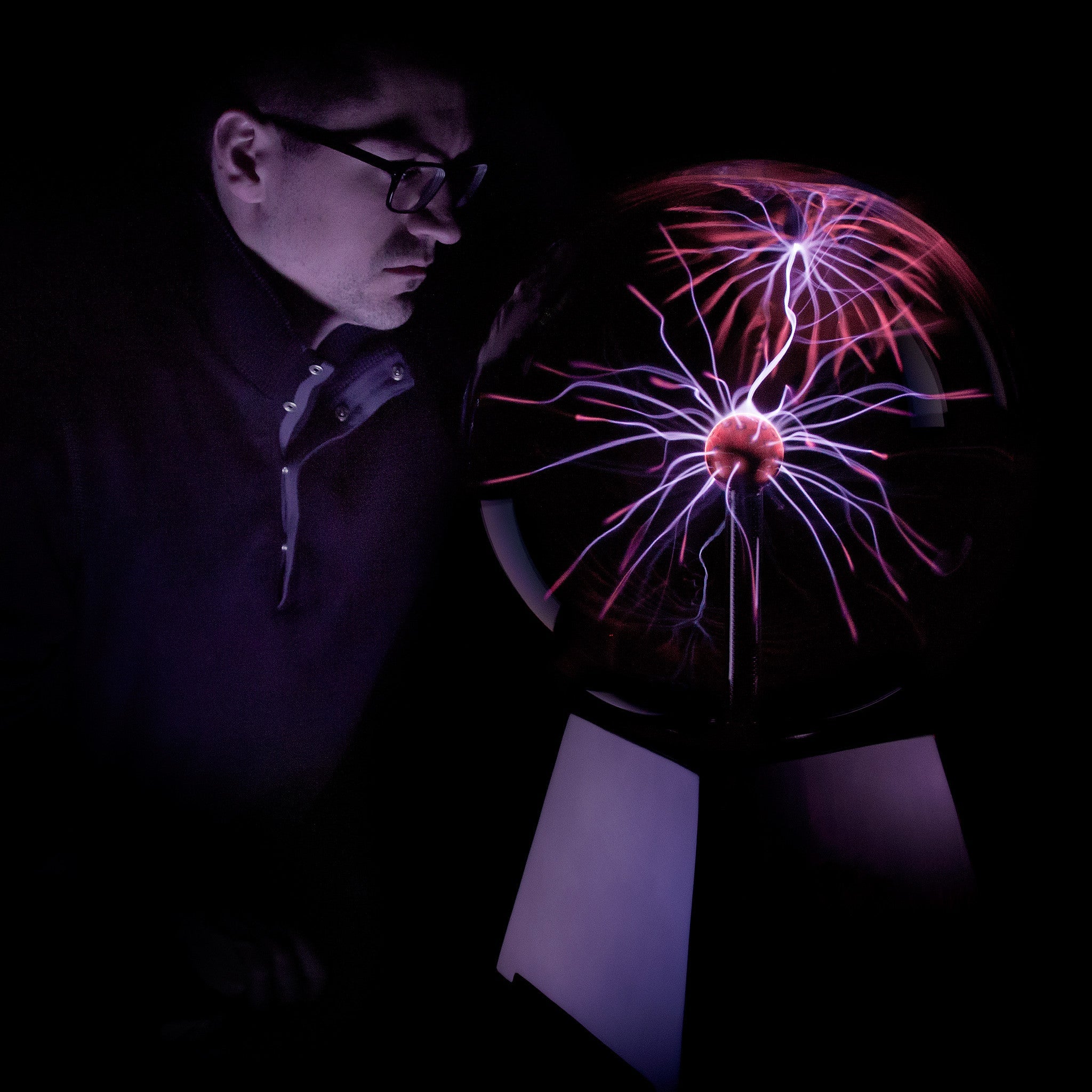 "Tyrian Purple" Continuum Series Plasma Globe
The Perfect Accessory
"Magic Plasma Wands"
Introducing the perfect accessory to play with your new "Museum Series" Plasma Globe! These "Magic" Plasma Wands light up without any internal power source. Simply hold them close to your "Museum Series" Plasma Globe, and the electrical field of the globe will ignite the plasma inside!
Learn More »
Museum-Sized Plasma Globes
⚠️ Important Notes ⚠️
All of the pictures and videos of our plasma effects were taken in near darkness. The descriptions of the effects are based on observations of the globes in the same near darkness. Just as the Northern Lights cannot be seen during the day, our globe's effects are best viewed in a darkened environment. Increasing levels of ambient light will wash out the effect colors until they almost disappear under full sunlight.
Please be aware that no two plasma globes are exactly alike, and there may be variations in color and effect from globe to globe. We test and compare over a dozen globes before selecting the globe to be used as the best overall example of the series. We make every effort to photograph and present our globes as accurately as possible, but Videos and Photos on this website should be used solely as a guide to what a product should look like, not as an exact representation. Rest assured your plasma globe will be unique and awesome!
Our plasma globes are made from temperature-hardened, laboratory-strength blown glass. Because the glass is hand blown, it is normal for it to have some imperfections. Upon close inspection, you may find small bubbles in the glass or minor scuffs. These imperfections will be completely invisible under normal operating conditions (i.e. a darkened room).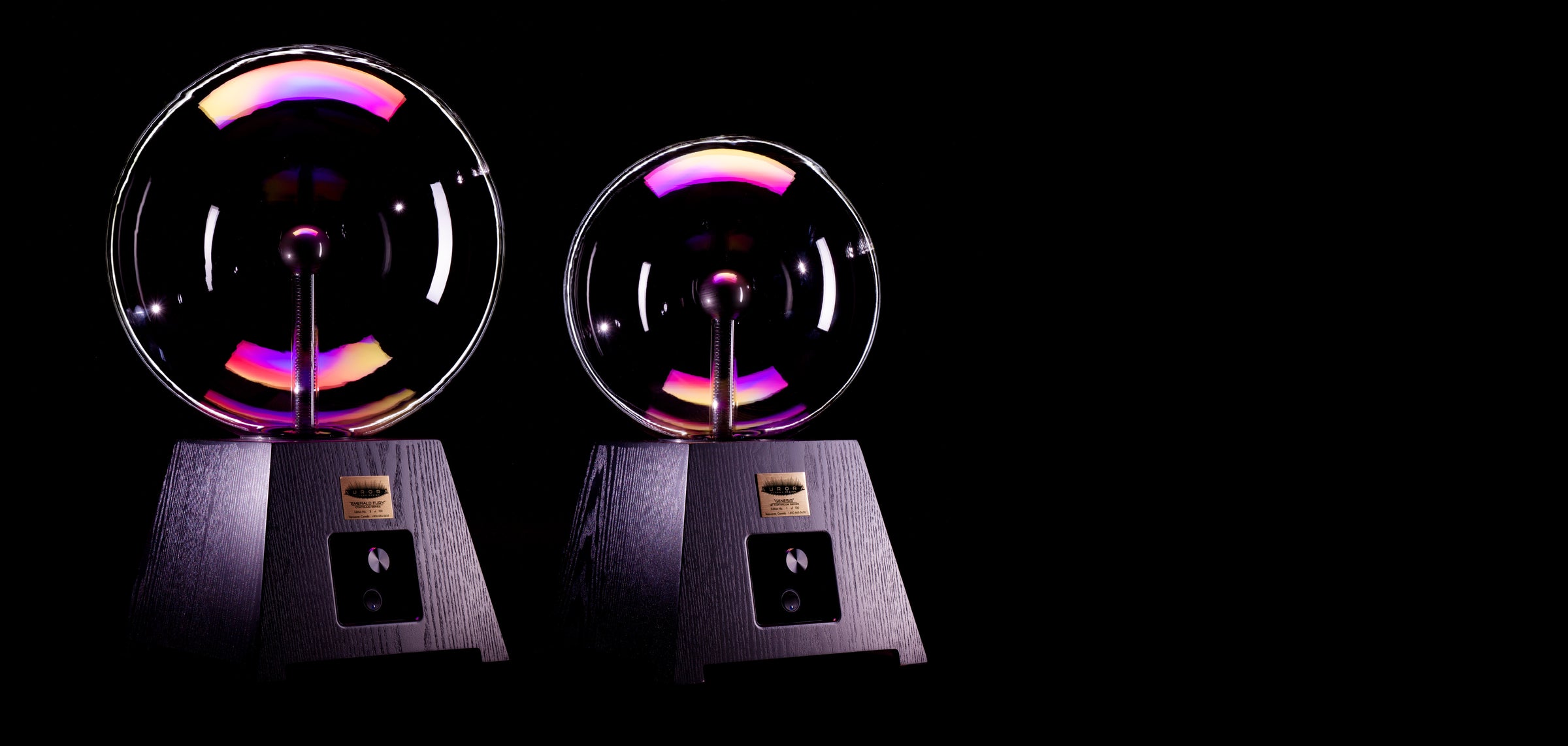 Learn more about our
"Continuum Series" ↓
The Ultimate Plasma Globe
Our "Museum Series" Plasma Globe lineup has gotten a major upgrade!
Introducing
The All-New "Continuum Series"
The Aurora Plasma Design flagship product for over 10 years, our 15-inch "Museum Series" globe has received a series of upgrades to make it better than ever! With our new "Continuum Series," the plasma globe body has been completely redesigned with a number of improvements.
Stylish, Black Wood Base
We've always wanted to make a globe with a black base, but all our attempts have inevitably resulted in the wood grain disappearing, making the base appear to be made from plastic. We finally figured it out though! Our new bases are black "ebonized" ash, which retains the wood grain while giving that sought-after black color that so many people have asked us for.
Premium Controls
Our Continuum Series globes have replaced the previous plastic knobs with luxurious machined aluminum knobs, the kind you might see on high end audio equipment. Paired with these knobs is a new high quality carbon potentiometer, which provides a buttery smooth feel and precise control over the plasma display.
We've also added a separate on/off switch with a built-in, dimmed LED indicator. The separate power switch makes ignition of the plasma gasses much more reliable, especially with our more power-hungry globes like "Emerald Fury" and "Promethean Fire."
12" Continuum Series Globe
For the first time ever, we are offering a 12-inch version of our Professional Plasma Globes! Initially available in "Genesis" style, with "Promethean Fire" coming soon, and more styles coming in the future!
The Same Dazzling Effects
"Continuum Series" globes have the same effects that are proven and loved by our many customers. We are initally offering the 15-inch Continuum Series in "Genesis" and "Emerald Fury" styles, with "Promethean Fire" coming soon.
One Final Touch
We have always considered the controls to be on the back side of the globe, but many customers like having the controls on the front, and having the power input in the same place was an inconvenience. To solve this, we have now moved the power receptacle to the underside of the globe, allowing you to position the globe however your want without the cord getting in your way!
You will NOT be disappointed
We thought maybe 15 inches wouldn't be big enough but we were wrong! This globe is stunning! We can't wait to order more in the future. Fast shipping, quality products, beautiful colors and reader friendly instructions! Amazing company. Thank you so much!!!
Tyrian Purple !
Very very beautiful! I absolutely love what i've been calling my "Starlight Fireplace" and look forward to other globes you may offer in the future! Thanks again!
Everything worked great.
I was a bit worried if it would arrive safely to Estonia, but it was really well packed and everything worked right out of the box.
Childhood dream come true
When they say museum quality they aren't kidding. This thing is absolutely gorgeous. Plasma globes started becoming popular when I was a kid in the 80s. Since then I have always dreamed of owning one. Now I have one and my kids are growing up with my childhood dream. Worth every penny.
My new plasma globe
I love my new plasma globe. It's great. I am pleased with my purchase. And my friends think it's neat. If any one wants to know where I bought it, I'll send them your way.
Exceeds Expectations
Note: website said this was out of stock, so I sent a message asking when it would be in stock again. Owner messaged me back a few hours later saying they had some in stock and just needed to update the site. I bought mine that same day. So if it says out of stock, send them a message. I was happy at how responsive the owner was!
Review: WOW. I read all of the awesome reviews here on the site and expected this to be very nice. But it was WAY bigger and cooler than I imagined! I've always been a science nerd and fascinated by Tesla and finally decided to get a nice plasma globe. My daughters love it too! As my attached pic shows, even with room lights on it still looks great. In the dark though, it's mind blowing…Just like the website video shows. This is one of the best purchases I've made in a long time. Totally worth every penny. After seeing how awesome this one is, I plan to buy the Promethean Fire globe also. Heck, maybe I'll get all of them!
Super Cool!
WAY better than my last plasma globe from Radio Shack in the 80's! Really glad I bought this. As someone else posted on here, shipping was very organized and secure. I will be buying the multi color northern lights one once they are in stock.