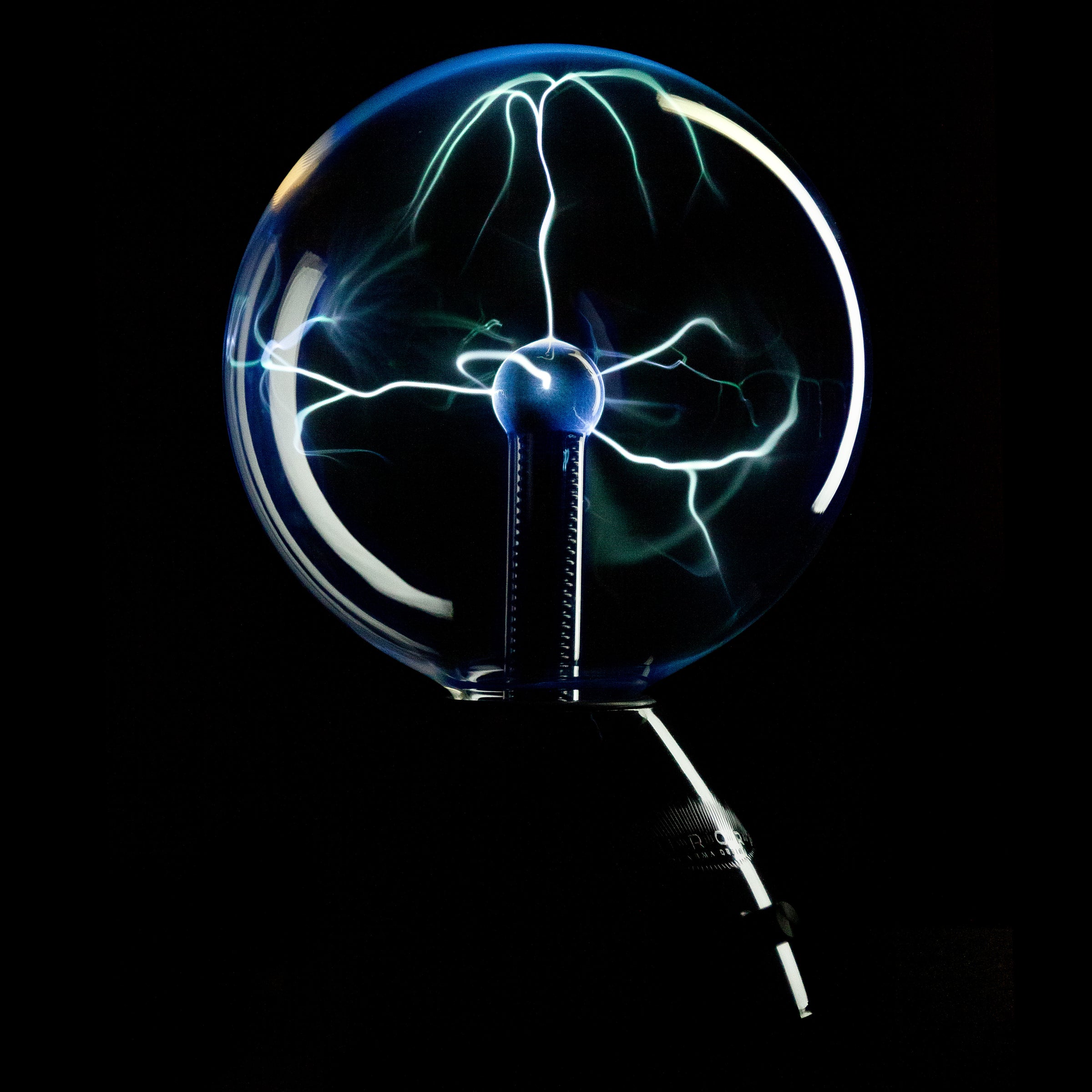 "Promethean Fury Junior" Plasma Globe (Discontinued)
See it in Action:
The Perfect Accessory
"Magic Plasma Wands"
Introducing the perfect accessory to play with your new "Junior Series" Plasma Globe! These "Magic" Plasma Wands light up without any internal power source. Simply hold them close to your "Junior Series" Plasma Globe, and the electrical field of the globe will ignite the plasma inside!
Learn More »
⚠️ Important Notes ⚠️
All of the pictures and videos of our plasma effects were taken in near darkness. The descriptions of the effects are based on observations of the globes in the same near darkness. Just as the Northern Lights cannot be seen during the day, our globe's effects are best viewed in a darkened environment. Increasing levels of ambient light will wash out the effect colors until they almost disappear under full sunlight.
Please be aware that no two plasma globes are exactly alike, and there may be variations in color and effect from globe to globe. We test and compare over a dozen globes before selecting the globe to be used as the best overall example of the series. We make every effort to photograph and present our globes as accurately as possible, but Videos and Photos on this website should be used solely as a guide to what a product should look like, not as an exact representation. Rest assured your plasma globe will be unique and awesome!
Chaos in a bottle
What an amazing upgrade over the plain-jane plasma globes.
Awesome effects at a great price.
Wanted since a kid!
So glad I put a search into Google instead of just buying some generic plasma globe from elsewhere, the Jr. is incredible, have lived every moment with it so far, look forward to years of enjoyment ahead.
Great product, greater customer service.
Do not buy the cheap "Discovery" chinese brands, pay a little more for much better quality, a product that doesn't blow up and superior customer service.
Almost perfect...
Great plasma globe, great color, great reactions. The shell tends to slide off and the buzzing noise can be irritating after a while.
I can't be sure but I think the buzzing noise you are referring to is the sound of the plasma tendrils striking the glass globe inner wall. The Emerald Fury Jr. gas formula is much harder to ignite than the typical mixture used to create purple colors and so we need to use a higher power supply to create the effects. This results in audible noise which is often referred to as a tinkling sound.
The black shell that is mentioned is not really part of the plasma globe. The globes look their best in a darkened situation but often retailers want to display the globes in their stores where ambient light levels wash out the globe effects. The shell is used to help solve this problem. It is not mentioned in the accompanying Owner's Manual and we consider it to be part of the packaging. If you feel the shell helps in your situation a couple of small pieces of scotch tape will keep it in place.
Burned out in less then 3 weeks
I hadn't even had this globe a month and it burned out. I ran it for about a half an hour at a time for maybe 3 to 4 times a week. Don't get me wrong, I loved it when it was working, it was like no other globe I've seen before. When I emailed them about it they were on it and sent a refund, but I honestly I just want another one. This is not a negative review by any means but it is an honest one. I just happen to get a dud I guess. Don't let this stop you from getting these.
By the time that this customer alerted us to the problem we were sold out of the Emerald Fury Junior globes and told him that we were refunding his money immediately because there was no other option. I am almost positive that I also told him that he could maybe use the refund to buy one of our New Series Jr. globes that should be available in late November. All I can say about receiving 1 Star is that at least viewers will know that are reviews are legitimate.
Jerry
Aurora Plasma Design
My Sons 13 bday present
I was looking over all my choices for plasma/ laser lamps on the internet and all of the lamps looked similar and cheap. Then I found Aurora.
I was shocked at the high quality product this specific company was selling. But what I was looking for was a present for my son Ray who is 13, so spending 500$ on one thing wasn't possible but spending under 100$ on the Emerald Fury jr was perfect!!!!
High Quality, different colors, reaction to touch and music, and made in North America. I am very pleased and he likes it too😀
Thank you for your review, Joseph! Just to be clear, with the exception of our Tesla Globes, our globes are manufactured in China. We provide the gas mixture formulas for the globes and designed the bases and electronics modules. One of the main reasons we have developed a loyal following is that we open, test and inspect every single globe before it is OK'd for shipping. Even with these efforts we still get a small number of globes that don't survive the UPS freight gauntlet but a quick read of customer comments will show that our customer service is second to none.
Mesmerizing
Quite unique. Green plasma globes are not common. It is better enjoyed in a dark room when all lights are off.
The effects are already great when left alone but everything becomes magical when you approach a finger or your hand. One cab fell the energy flowing through.
As expected, the plasma tentacles move quite fast but will gradually slow down as the globe is "broken in". This is well explained in the overall descriptions of your products.
My son loves it.
Love the green! Nice compact piece. And cordial folks at Aurora :)
Being a repeat client and owner of 2 Promethean Fire 15" globes, I thought it a nice alternative for the Emerald Fury in a Jr. size.
Quite active, and vividly green tendrils, it sits well on a desk with space which wouldn't fit a 15" version. Nice!
Always have been exceptionally happy with Jerry & Steve at Aurora - wherein they both routinely go above and beyond for me on many occasions.
A+ and 5 stars - thanks folks.