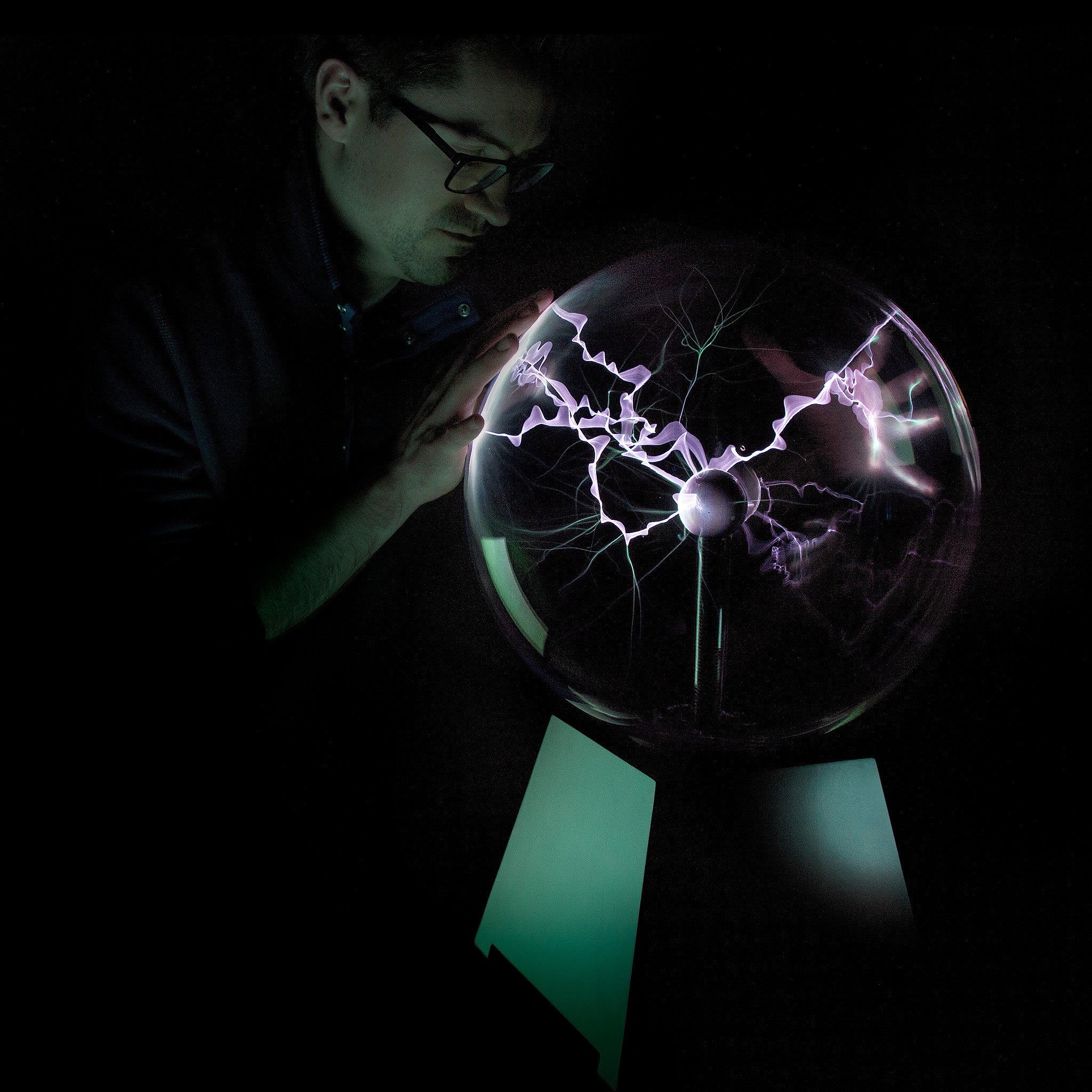 "Emerald Fury Series I" Plasma Globe
See it in Action:
The Perfect Accessory
"Magic Plasma Wands"
Introducing the perfect accessory to play with your new "Museum Series" Plasma Globe! These "Magic" Plasma Wands light up without any internal power source. Simply hold them close to your "Museum Series" Plasma Globe, and the electrical field of the globe will ignite the plasma inside!
Learn More »
⚠️ Important Notes ⚠️
All of the pictures and videos of our plasma effects were taken in near darkness. The descriptions of the effects are based on observations of the globes in the same near darkness. Just as the Northern Lights cannot be seen during the day, our globe's effects are best viewed in a darkened environment. Increasing levels of ambient light will wash out the effect colors until they almost disappear under full sunlight.
Please be aware that no two plasma globes are exactly alike, and there may be variations in color and effect from globe to globe. We test and compare over a dozen globes before selecting the globe to be used as the best overall example of the series. We make every effort to photograph and present our globes as accurately as possible, but Videos and Photos on this website should be used solely as a guide to what a product should look like, not as an exact representation. Rest assured your plasma globe will be unique and awesome!
Our plasma globes are made from temperature-hardened, laboratory-strength blown glass. Because the glass is hand blown, it is normal for it to have some imperfections. Upon close inspection, you may find small bubbles in the glass or minor scuffs. These imperfections will be completely invisible under normal operating conditions (i.e. a darkened room).
A must-have for any museum
11/10, absolutely perfect for our smaller children's museum!
Lightning at your fingertips!
Emerald Fury is a force to be reckoned with. A very fierce and powerful globe with electrifying green lightning bolts coursing through. You can actually feel the power of lightning at your fingertips! Another true and wonderful masterpiece from Aurora Plasma Design! Bravo!
Emerald Fury
Works and looks exactly as I anticipated. Very happy with this.
Emerald Fury!
Absolutely incredible! Tendrils are pale green with blue aura and center. It looks great at the very lowest power setting (picture shows this) as well as up higher! Just exudes quality. Beautiful! Thank you!
Very cool and a GREAT
Very cool and a GREAT addition to my science classroom!
Emerald Fury
Awesome product, great service from accommodating and friendly staff! Great savings on "scratched" inventory, which is barely noticeable, especially when turned on in a dark room. Love the Fury!
Emerald Fury Plasma Globe
Wow, what fun! I have 3 boys, 9, 5 and 1.5... They all love this thing! I have it in 'the man cave' so its nice and dark, we all love to just sit listening to music and watch mesmerized by the emerald fury! I was worried about the long trek from up north but the double boxing and packing worked, it arrived quickly and without a scratch. Highly Recommended!
Emerald fury plasma globe
Chaos!.... fun globe to play with and just look at.... soft green hue I turn it on low and use it as a night light in my bathroom..... base has a nice elegant feel to it.... globe feels very upscale.... well worth the money