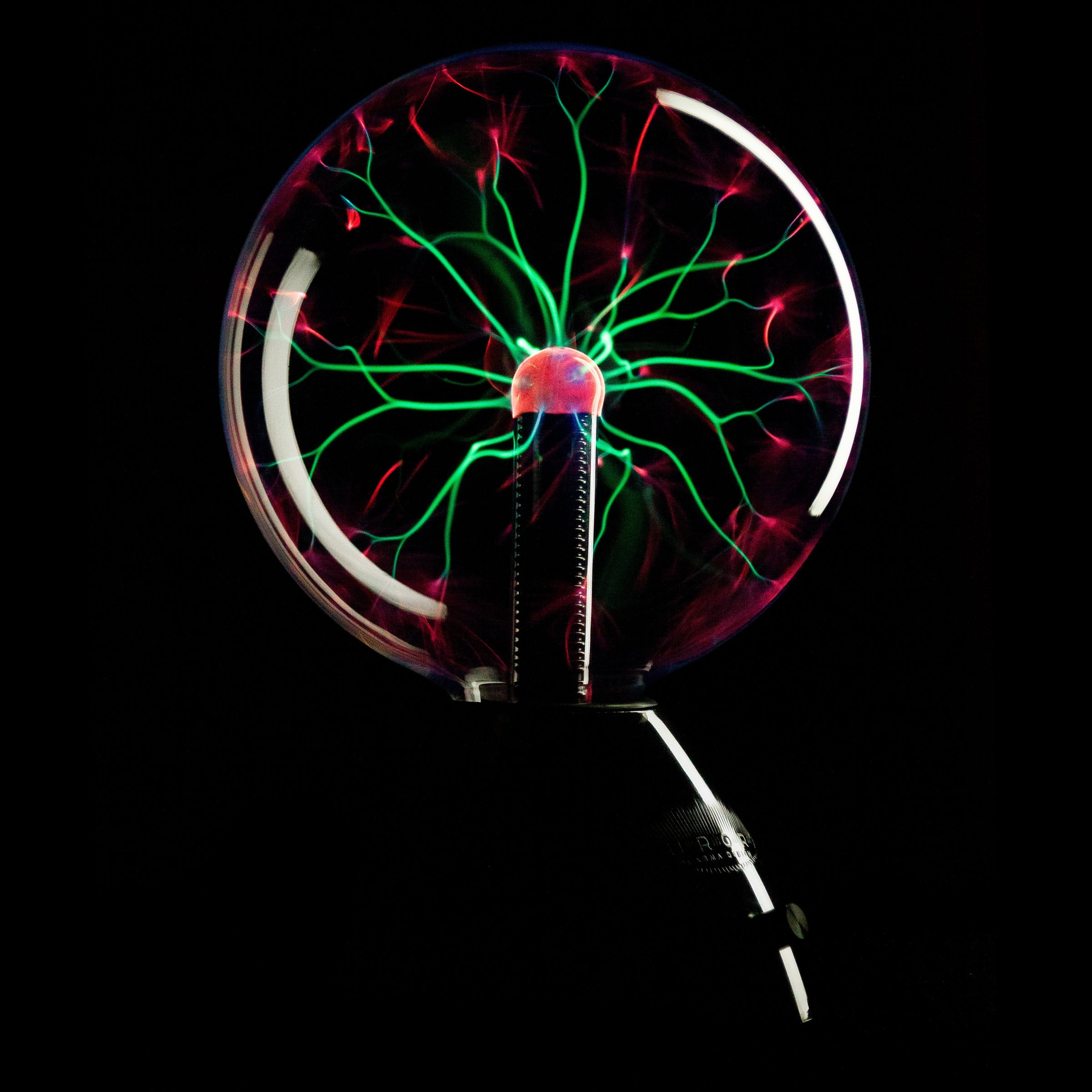 "Genesis Junior Pro" Plasma Globe
See it in Action:
The Perfect Accessory
"Magic Plasma Wands"
Introducing the perfect accessory to play with your new "Junior Series" Plasma Globe! These "Magic" Plasma Wands light up without any internal power source. Simply hold them close to your "Junior Series" Plasma Globe, and the electrical field of the globe will ignite the plasma inside!
Learn More »
⚠️ Important Notes ⚠️
All of the pictures and videos of our plasma effects were taken in near darkness. The descriptions of the effects are based on observations of the globes in the same near darkness. Just as the Northern Lights cannot be seen during the day, our globe's effects are best viewed in a darkened environment. Increasing levels of ambient light will wash out the effect colors until they almost disappear under full sunlight.
Please be aware that no two plasma globes are exactly alike, and there may be variations in color and effect from globe to globe. We test and compare over a dozen globes before selecting the globe to be used as the best overall example of the series. We make every effort to photograph and present our globes as accurately as possible, but Videos and Photos on this website should be used solely as a guide to what a product should look like, not as an exact representation. Rest assured your plasma globe will be unique and awesome!
Our plasma globes are made from temperature-hardened, laboratory-strength blown glass. Because the glass is hand blown, it is normal for it to have some imperfections. Upon close inspection, you may find small bubbles in the glass or minor scuffs. These imperfections will be completely invisible under normal operating conditions (i.e. a darkened room).
Solid
Loved the solid glass, makes globe feel sturdy. Lights are absolutely mesmerizing.
Informations
Trais satisfait ça ce comparer pas a une lampe o plasma Grand publique couleur vive fonctionne trais bient cordialement David Lemieux
"Genesis Junior Pro" Plasma Globe
Better than I expected
Excellent product. Super fast shipping. It helps me relax
Perfect quality
I absolutely love this Plasma globe. The quality is so much better than the cheap novelty store globes. Aurora does not (yet) ship outside Canada or the United States and since I live in the Netherlands, I used reship.com which made it more expensive but it was certainly worth it.
Great quality
I got this as a gift for my partner who is interested in plasma globes, but has never had one. It's much better quality than the mass manufactured ones I've encountered before. The colors are beautiful and there's lots of power to it. We love it as a bedside lamp alternative!
Top Marks
I corresponded a little with Jerry, the founder, prior to making my purchase. I found him to be very frank, honest, and generously helpful. I ordered a newer Jr. 'Pro' version, but also an older Jr. globe of different gas mix; so I think I'm in a good position to A/B compare.
Regarding quality of components, the new Jr. Pro is a solid upgrade in every respect. The base is heavier (must be more metal inside!). The black plastic cover seems thicker, and is glossier (in a good way). The quality of the bottom plate is way better, and seems to offer greater heat dispersion. Aesthetically, for me, the base looks reasonable on both - it does a good job of 'getting out of the way' and not drawing negative attention to itself; though the Jr.Pro base does look a step nicer than the Jr.. The knob seems to have been unchanged - they both have a nice, smooth resistance while being twisted. The new black coil-stem is a little wider it seems, while the glass cylindar is the same, leaving a little less empty space between the two, in the new Jr.Pro than in the Jr.. The outer globe seems a bit thicker on the Jr. Pro, when tapping on it.
If you put thought into interior design, this type of item will be difficult to fit seamlessly into an environment... most of the time it will sit turned off, generally looking out of place and not particularly attractive, I think.
That said, when you have the time and inclination to devote some attention to its light show - WOW! The plasma effects are really beautiful to behold. And having a variable power setting is a major plus - it can really change the 'mood' of what effects you can see.
If this is the sort of product your interested in, I have no hesitation to recommend an Aurora plasma globe, based on my experience. A great product & company!
Great Plasma Globe!
This globe is really cool. My kids love it, I love it.